About
Travel Maps Australia (the owner of Sydney Brochure Distribution and its consumer brand THE WORD Australia) is the leading distributor of travel information for inbound tourists (especially youth and adventure markets) in Sydney. 
Travel Maps does this through its extensive range of city walking maps, its own Pocket Guide (aka Aussie Guide & Map), its various digital media channels and these excellent brochure distribution services. THE WORD Australia 'products' work seamlessly with Sydney Brochure Distribution 'services' creating a highly efficient business model. Therefore allowing Travel Maps Australian to pass on some great direct marketing packages and discounts to its clients.  
200,000 guides and 560,000 maps are printed and distributed annually. In addition THE WORD owns over 240 brochure displays and over 500 point of sale displays for all of the brochures, guides and maps. Travel Maps understands that the web (SEO/SEM/Social Media) has come a long way as a marketing channel, however traditional media (TV, radio, billboards, brochures, guides and maps) continues to drive new customer awareness and sales enquires to business freephone numbers and websites. Print media still has a very important role to play in your business's sales and marketing success. We know this because we (and others) have carried out the research (see below).
Incorporated in 1993 and 100% Australian-owned Travel Maps is one of the most trusted sources and distributors of Australian travel information. Driven by a dynamic and evolving 'backpacker' tourism sector, Travel Maps is actively involved with the mainstream inbound tourism industry.  After great success expanding these services into the international education sector Travel Maps is now extending its offerings into mainstream markets with a repositioning of the Sydney Map, new Melbourne and Sydney Chinese Maps and even more brochure distribution displays.
Check out our locations list for details.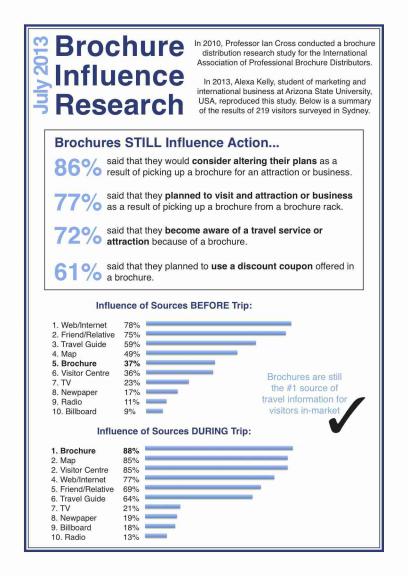 This is the only research of this kind to be conducted in Australia and is why we believe you should continue to develop and distribute brochures for your business.
We consider brochures to be an essential direct marketing tool that still presents clear and compelling reasons to buy your product or service. They are effective for sales promotions, launching a new product or simply to get more customers and sales for your business. Brochures also remain one of the most cost-effective direct marketing tools to attract new customers and raise brand and keyword awareness.
Our brochure distribution clients range from owner-operators and small businesses, to government bodies and major corporates.  But they all have one thing in common – they wish to reach international tourist markets on arrival to Sydney and Melbourne. If you are serious about reaching key inbound tourist markets as they arrive or depart Sydney, then contact us today!